Spinal Cord Injury
At Steel & Eisner, LLP the purpose of our legal services is to provide practical resolutions for all kinds of civil cases. Our steadfast commitment is to make certain that the rights of individuals are respected and valued when damages claims are pursued for personal injuries, including spinal cord injuries. Above all else, our aim is to provide a service of exceptional quality at a very realistic price. Our firm strives to meet the needs of individuals and to serve justice on behalf of our spinal cord injury clients.
---
The Importance of the Spinal Cord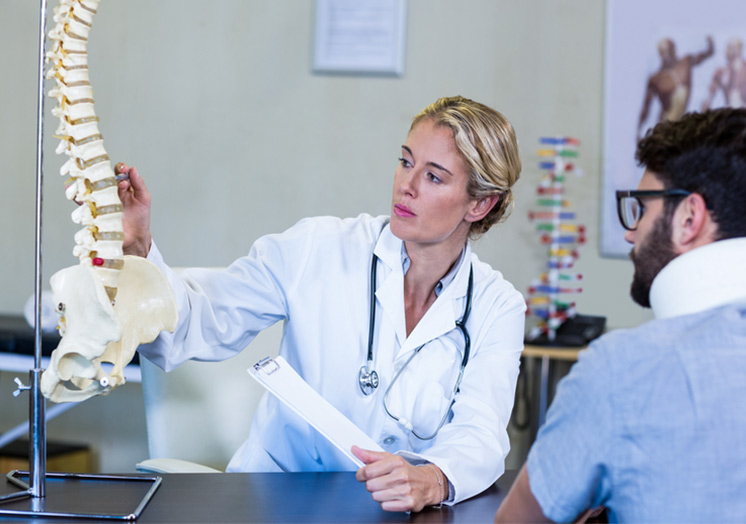 Along with our brain, our spinal cord is the singular, most central organ in our body and it's commonly damaged in an accident. The function of the spinal cord is to control all muscles, which means that any damage that occurs will effect the rest of the body. This means a victim could lose their ability to function satisfactorily.
The spinal cord does have some level of protection from the backbone but it can be easily damaged in the event of a slip and fall accident or a road accident.Spinal cord injuries normally require a stay in a hospital and then a long period of rehabilitation. Depending on the damage done to the nerve
fibers, an accident victim may suffer from chronic pain, overly stiff muscles and the loss of feeling in parts of the body because of paralysis.
To suffer devastating injuries such as a spinal injury is a terrible burden but when it was due to the negligence of someone else it seems far worse. At Steel & Eisner, LLP, our firm has successfully represented a large number of clients who are victims of serious spinal injuries due to an accident that was not their fault. We have an excellent representation for winning suitable compensation packages that assist our clients in living as normal a life as possible after sustaining a spinal cord injury.
---
Spinal Cord Injuries Occur Due to One of the Following:

A Spinal Injury Could Be Expensive
The price of repairing any damage inflicted on the spine following an accident is generally far higher than even the best of estimates. You must take into account the loss of income due to time taken off work and the medical costs associated with this type of injury, which could be spread over a prolonged period of time. A severe spinal injury means that the accident victim will probably need help moving around and require structural adaptations to their home. The long-term budget for anyone who is paralyzed is extremely high.
If the accident and spinal cord injury took place because of someone else's negligence, then you have a legal right to compensation from the person who caused the injury. This isn't an easy process as the insurer of the at fault person, especially if the accident occurred on the road or in the workplace, may try to offer you a small amount that won't cover all of your costs. You're entitled to the very best payment because you're the one that has to live and endure the hardships of having such a serious injury.
At Steel & Eisner, LLP, we understand your situation and are prepared to go to great lengths to ensure you get the compensation you need and deserve. We want to make your life as comfortable as possible in your situation, and are proud of the reputation we garnered for treating our clients courteously and with the utmost of respect.
If you're the victim of an accident and suffered a spinal cord injury,contact us at Steel & Eisner, LLP to arrange a free and prompt consultation. At this consultation we will be able to determine if you're eligible for compensation. If you're eligible, we ensure that you receive a compensation package that will financially cover you for all necessities.